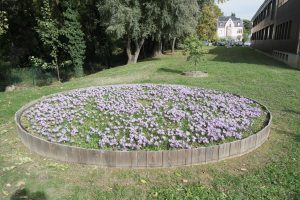 In the summer of 2019, [N.A!] Project funded the production of Crocus sativusat FRAC Alsace. As an extension to this work, in September 2019, [N.A!] Project set up an artists' garden at the Solinest headquarters in Brunstatt, Alsace. Invited to create a saffron farm in the garden, Guillaume Barth planted 2,500 saffron bulbs with Solinest employees, who now tend to the garden all year round.
Guillaume has been interested in saffron since 2004, studying its properties and virtues. His work has led him to travel and even cultivate this flower to reveal its symbolism.
At the same time, the artist has been working on a diploma project in 2020-2021 at Le Fresnoy – Studio National des Arts Contemporains, in coproduction with [N.A!] Project.
In October 2020, volunteer employees picked 10 grams of saffron.
This first harvest under the responsibility of [N.A!] Project Ambassadors offers a glimpse of many bountiful years to come.
More information : http://www.guillaumebarth.com/