Morgane Porcheron is a multimedia artist interested in the relationships between nature and human constructions. Offering a link to living beings, her work blends elements from the space around us and compositions that question humanity's intervention in nature.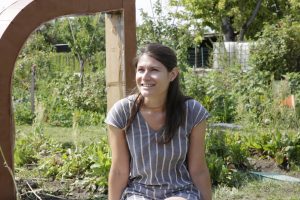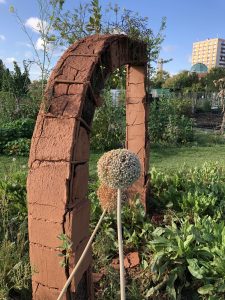 In September 2019, she proposed the creation of Construction Structurée, a living piece of art designed for Espace 365, alongside the work of Raphaël Dallaporta. This installation appears as fragments of red clay architecture that deconstruct the surrounding greenery, referencing the greenhouses at Zone Sensible's urban farm. Here, clay, a dense natural material that is generally baked and used to build houses, is used "raw" to form two nourishing cocoons filled with soil and bean seeds.
As the plants have grown and broken through the surface, the earth has cracked, revealing the steel bones of the structure. Ultimately, the red clay, the compost and the shoots will blend in with the agricultural soil, leaving humans no power to decide on the work's final form or evolution. This site-specific art serves as a metaphor for humanity's grip on nature, as well as a tribute to the environment.
In 2020, despite the Covid-19 health crisis, Morgane Porcheron pursued her work focused on architecture and insidious invisible and/or underground forces. In particular, she produced a significant piece of work entitled Tetris Végétal.
In 2021, you will find her at La Menuiserie 2 in the Oise department of France, where she will be taking part in a residency to produce a large-format work of ceramic art. She will also lead a workshop for a student audience in Pithiviers linked to the construction of a new school. And you can find her work at the Tignous contemporary art center in Montreuil, where she will show Format Cabine. Finally, Morgane has recently become interested in beaches and seaweed, which she uses to make molds – new perspectives we will share with you soon!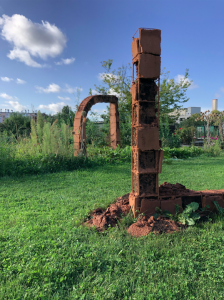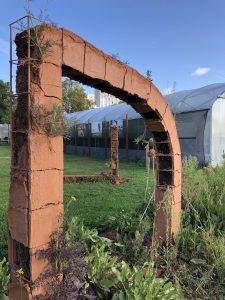 To know more about her work at Zone Sensible.